By Anna Bull
In my early 20s, after training for 15 years as a classical musician, suddenly I came to a point where I could no longer work under conductors. Something in me had grown increasingly uncomfortable with this mode of human – and gendered – interaction. Years later, carrying out my PhD research into class and gender identities among young people playing in classical music groups in the south of England, I finally started to explore what was going on in that moment of refusal. Through the course of the PhD research and subsequently writing my book on class, gender and classical music, I explored how the type of social interaction that goes on between conductor and musicians – entirely taken-for-granted in classical music spaces – has continuities with classed and gendered patterns of behavior in wider society.
The gender norms are fairly obvious: the male conductor embodies authority and 'plays' the choir or orchestra as his instrument. This authority is less acceptable today than it was fifty years ago, and research into conductors' engagement styles shows a shift from authoritarian to more consensual or managerial forms of conductor-musician relationships today. Nevertheless, when asking my research participants about how they experienced working with their conductors, I found among clear gendered patterns of feeling. While the young men wanted to be him and indeed could imagine becoming a conductor, for the young women in my study there was a more complex set of feelings and identifications. In some instances they articulated fear (sometimes pleasurable fear, sometimes not), but they also enjoyed being subject to the conductor's authority. Unlike the young men, for the most part they ruled out becoming a conductor, whether because they didn't want to hold this power or because they explained how their bodies could not inhabit authority in this way. Therefore, regardless of whether conductors themselves are inhabiting more or less authoritarian modes of working, the gendered patterns of how this authority is experienced are still apparent.
It took me longer to see the classed identities that are at play in interactions between conductor and young musicians, partly because I was coming from a similar middle-class position (albeit antipodean) to my research participants. However, a clear theme throughout all my research sites (a youth choir, two youth orchestras and a youth opera group) was how much the young people trusted the adults running these groups. This trust took the form of an embodied openness to the direction of adults, particularly evident in the non-verbal communication between conductor and musicians where the latter have to respond to every subtle gesture the conductor makes. This trust is, in fact, a requirement for making music under a conductor. It goes together with a willingness to give oneself up to the group and let go into the experience. This earnest openness contrasts sharply with the lack of trust that studies have found in those from working-class or minoritized ethnic groups. This willingness to work with (upper-middle-class male) authority can be seen to form a continuity with middle-class trust in institutions more widely, whether schools, the state, or the legal system. This mode of interaction also forms an interesting contrast with the sense of individuality, agency and control over their lives that middle-class people narrate – and indeed conductors in my study recognized and respected this sense of control in tending to frame their instructions as an invitation that the young people could choose to follow, rather than a command.
These themes are also, I hope, evident in this short film, but there are also differences between the wider research study and the film. The National Youth Choirs of Great Britain (NYCGB) is at the progressive end of change in elite classical music education, implementing mechanisms to support youth voice within the organisation such as bringing young people into decision-making structures and leadership positions. They are also open to critical discussions of whether and how classical music should change its usual practices to become more inclusive and to reflect wider changes in society, as evidenced by their participation in this film. In addition, in the five or six years since I carried out my fieldwork, the classical music world has started to pay more attention to gender and class inequalities, in the form of campaigns and programmes to redress the gender balance, as well as public attention towards increasing class inequalities in music education and it appears that there are now more women conductors working in the UK than there were only a few years ago.
For myself, through the process of carrying out this research I have come to understand why, as a young woman, I felt there was something deeply uncomfortable about playing and singing music under a male conductor. It mirrored too closely the relations of gendered power and control that I recognized from society more widely, which I needed to move away from rather than reproduce, and I felt that it didn't give me any viable way of inhabiting a female identity other than submission and obedience. Today, while I don't feel any urge to go back to working with conductors – or indeed becoming a conductor – I do recognize that this way of making music is enabling as well as constraining. It offers a powerful and intensely satisfying musical experience that is different to other forms of face-to-face music-making, and therefore, for those who find meaning and beauty in this way of making music, I offer this short film and commentary in the service of trying to figure out how it can be done in the most inclusive way possible.
I would like to thank Ben Parry and the National Youth Choirs of Great Britain for their enthusiastic participation in this film, and The Sociological Review for giving me the opportunity to make it.
Dr Anna Bull is a Senior Lecturer in sociology at the University of Portsmouth and a former professional pianist and cellist. Her book, Class, control and classical music is published in July 2019 with Oxford University Press.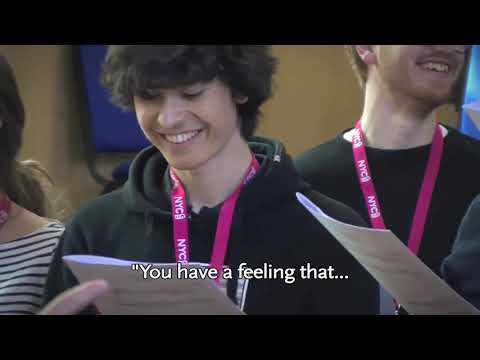 Click on the image above will load an external resource which will send cookies